Cape May, New Jersey Birding Elderhostel
May 13-18, 2007
Page Two: Photos taken during Elderhostel
(Click on Thumbnails for full-screen images)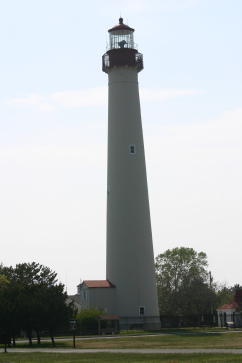 During the second week of May, Cape May is at its best for birders looking for migrants in breeding plumage, especially shorebirds and warblers. Our special target bird was the Red Knot, northbound populations of which peak when the horseshoe crabs emerge on the beaches to lay their eggs. We were not disappointed, as we saw hundreds close up. I only carried my camera one day, as active birding and photography can sometimes be conflicting hobbies. The photographer must stop to "smell the roses" while the group has urgent business as it strives to check off ever more species. Here we are, heading out on the beach to view the endangered Piping Plover. Restrictions to public access did not permit me to get close enough to photograph them, but this is all the better for the birds!
Our trip leader, Mark Garland, assisted by NJ Audubon naturalists Chuck & Mary Jane Slugg, led our trek on the boardwalk through the woods and wetlands. Other NJ Audubon naturalists who served as guides included Karl & Judy Lukens, Jason Guerard and Bill Glaser. Bob & Linda Carlough, very acute observers, took us out on on The Skimmer.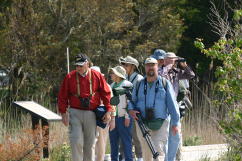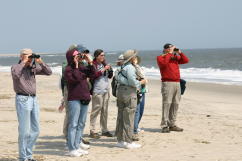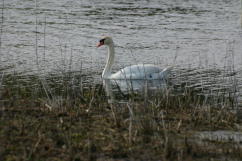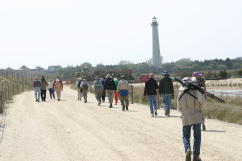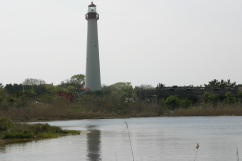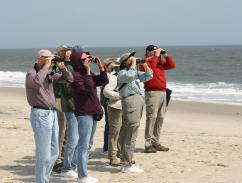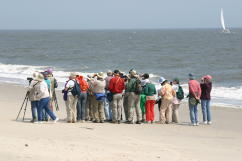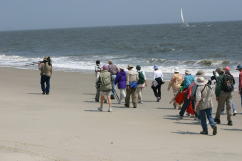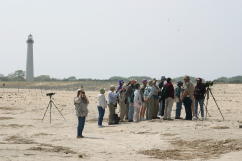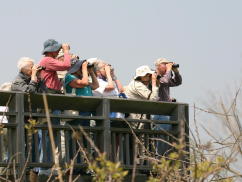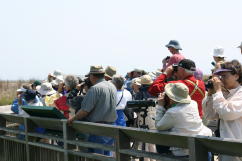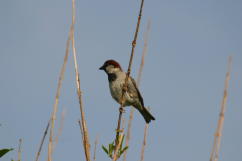 A most interesting discovery was that of a pair of Killdeers with four newly-hatched chicks.
My images are not very good, but they do help recall the excitement of seeing the
little critters make cautious forays into the big world.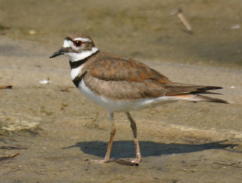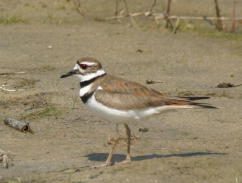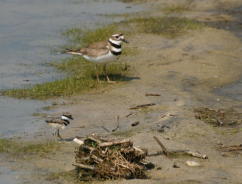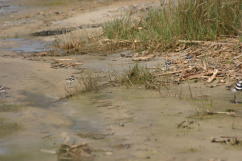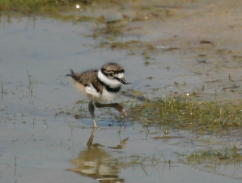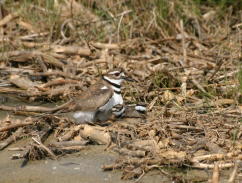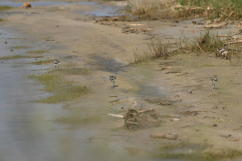 Along the way, there were many interesting sightings.
A Song Sparrow hopped nearby, and an adult Tree Swallow fed its recently fledged chick.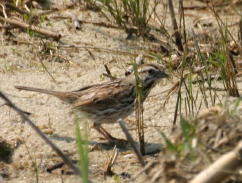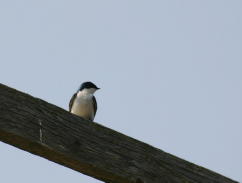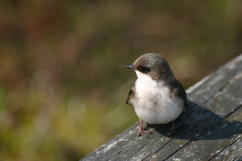 At the end of the day, time for rest and relaxation!
Our hotel, The Inn at Cape May, was situated on the beach front.
Staff were friendly and meals were reasonably good.