...........................................................



FEB 22: Adult Bald Eagle soaring over nest tree.




FEB 22: The oldest eaglet, on left, is 5 weeks old today.




Feb 15: Adult roosting (click on images for larger views)






Feb 15: Chicks interacting. The larger, on the left, is 4 weeks old today.




Feb 13: The second chick is now big and strong enough to look over the edge of the nest.






Feb 12: Eagle standing guard







Feb 12: Eaglet in nest with parent




Feb 9: The larger eaglet looks over the edge of the nest (click on photos for larger images)






Feb 9: The eaglet flapped its wings several times.





Feb 8: The beaks of two eaglets are visible in this photo. The oldest is three weeks old. Click on it to see a larger annotated image that points out the beaks. Note that the older chick's bill is almost as big as that of the adult.








Feb 8: This is a fuzzy shot of the larger chick, now three weeks old.












Feb 7: Adult is sheltering chick(s) against
wind and rain.












Feb 6: Chick is sitting up as parent preens. Click on photo for larger, annotated views.












Feb 4: Head of chick is visible as parent
tears at prey (click on above photo for
larger, annotated view).











Jan 30: It was quite foggy, and the adult sat close.













Jan 30: This eagle roosted near the nest, drying its outstretched wings.













Jan 30: It was one wet eagle!











Jan 30: Eagle feeding chick(s) in nest.













Jan 27: Eagle sitting high on the nest, the first day we saw one of the eaglets.

Sunday, February 22, 2009: Media Blitz

Thursday, February 19, 2009: First Chick is 33 Days Old



Monday, February 16, 2009: Good News


Sunday, February 15: Chicks are 4 weeks old




Saturday, February 14, 2009



Friday, February 13, 2009



Thursday, February 12, 2009: Eagle Nest on Local TV


Tuesday, February 10, 2009: CONSTRUCTION HALTED



Monday, February 9, 2009


---
Sunday, February 8, 2009: Two Chicks!



Saturday, February 7, 2009



Friday, February 6, 2009



Wednesday, February 4, 2009


---

Tuesday, February 3, 2009: First Eaglet is 17 days old



Friday, January 30, 2009: Wet eagles



Tuesday, January 27, 2009: Eaglet visible in nest




Monday, January 26, 2009



Thursday, January 22, 2009


---

Wednesday, January 21, 2009



Monday, January 19, 2008
(Click on thumbnails for larger images)

---

Sunday, January 18, 2009: Eaglet Appears To Have Hatched!

---
January 16, 2009


January 14, 2009-- 32nd Day of Incubation



January 9, 2009



December 23, 2008


December 17, 2008: Incubating Eagles Swap Duties

December 13: Eagles Appear to be Incubating Egg(s)


December 11, 2008: Time to Lay Eggs Approaching
This morning, at around 7:30, both of the eagles were on the nest. One took off, leaving the other partially hidden within the nest. After a few minutes, the other flew away. Within 10 minutes, we saw both eagles flying across Pines Boulevard to the northwest, where they circled low and dropped out of sight. Very soon, one returned to the nest carrying a large branch in its talons, followed within 30 seconds by the other, carrying a smaller stick. The eagle to the left in this photo worked on the nest while the other appeared to be standing on guard. Then they touched bills and sat together for 5 minutes or so, before the one on the right flew off. The other remained nearly out of sight for another 15 minutes, until we departed.
If the birds follow last year's schedule, their eggs should be deposited within the next few days. Eagles are known to be most sensitive to disturbance during the nesting period, especially when incubating the eggs and rearing their young. These birds nested successfully last season despite the proximity of their nest site to housing subdivisions, the busy road, the presence of a construction staging site within about 300 yards, and a shooting range within earshot. This year they face the potential for additional disturbance, as West Broward High School has opened, and at rush hour there are officers directing traffic and police cars with lights stationed at about the same distance from the nest. Additionally, since more people now know about the nest, there are often observers watching through binoculars and photographers, stationed about 100 yards from the nest.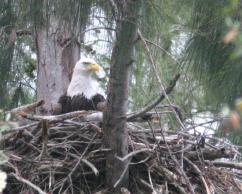 December 5, 2008: Eagle Researcher Meets With Students
Today, the Middle School students who will conduct the eagle observations were treated to a talk by Brian K. Mealey, who heads the Institute of Wildlife Sciences, and conducts wildlife research in Everglades National Park (ENP). One of his particular interests is the migratory dispersal of Bald Eagles in South Florida. He described his program of banding and satellite tracking of newly fledged eagles. On his Web site, it is possible to track the daily movements of "Birdie," a young eagle who hatched out in Port St. Lucie, from her first practice flights, in early April, to her return to Florida, in October, after migrating to Maryland for the summer. Track "Birdie's" wanderings at this link.
The eagles of Central Florida are known to fly to points far to the north, soon after becoming independent of their parents. During early summer into late fall, they commonly congregate in the Chesapeake Bay area in Maryland. Interestingly, Brian's studies have revealed that birds from the southern tip of Florida almost always stay in Florida.
If the Pembroke Pines pair are successful in fledging one or two eaglets, Brian hopes to be able to equip them with satellite tracking transmitters. As this nest is in the territory between eagles that take long flights north, and the ENP birds that do not migrate outside Florida, tracking of any offspring may provide important information about the relationship between nesting sites and the location of migration ranges. The students showed great interest and had so many questions that Brian could surely have gone on for another hour.

December 3, 2008: Eagles are Carrying Nest Materials!
Kelly Smith, 7th Grade Science Teacher at Silver Trail Middle School writes: Just wanted to let you know....
I hadn't seen both eagles together for about a week, and was beginning to worry that something had happened to one. To my great relief I spotted both of them this morning and wasn't I happy to see them carrying branches to the nest and arranging them. They made about 4 trips in the 20 minutes I stopped by to watch. We seem to be right on track with last year's schedule.


December 2, 2008: Photo of Eagle on Nest, and a Caution
At 8:30 this morning, I pulled up to park at the usual observation point just to the south of the "End School Zone" sign. One eagle was immediately visible, on the nest. To retrieve my camera, I had to get out of the car and open the trunk. My movements were slow and I did not slam any doors. Yet the bird on the nest became alert and restless. As I was photographing it, from the other side of the auto, it stood up and then flew off. It had remained on the nest only about one minute from the time I got out of the car.
The lesson I learned is to suggest that observers remain in their vehicle, using it as a blind, especially when eagles are at or near the nest. If the car is properly positioned, just on the south side of the "End School Zone" sign, with the post directly in line with the observer(s), it will not be necessary to get out of the car. Of course, in the future I will arrive with my camera inside the car!