After your visit, please report your observations on the ROSY-FINCH FORUM
.
Also monitor and post sightings to the
NM Rare Bird Alert
or directly
by e-mail to Matt Baumann who compiles the New Mexico RBA.
---
We have relocated to Miramar, Florida. Only 8 feet above sea level, our new home (rear view to the left-- click on thumbnail for more views of our home and lake) is 42 feet from the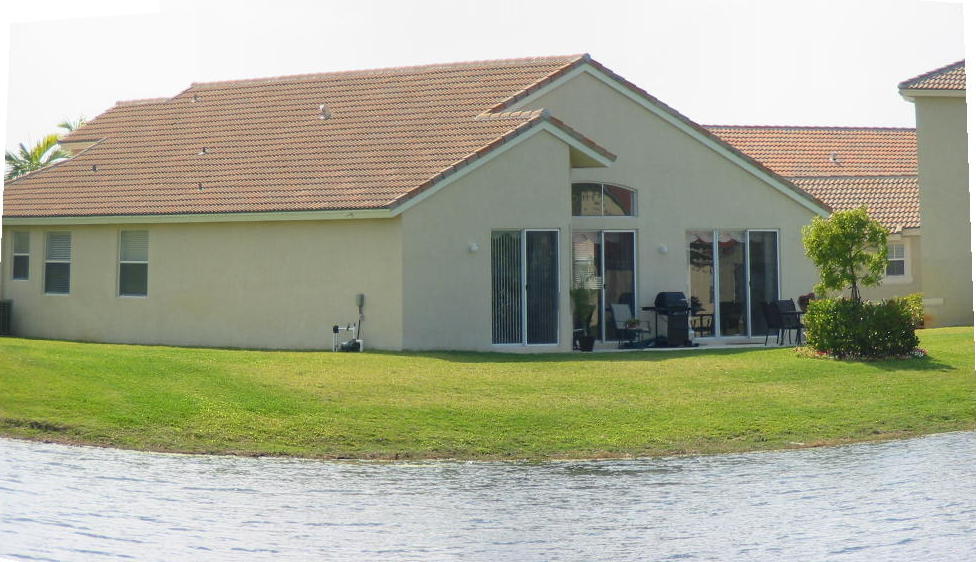 shoreline of a lake at the edge of the Everglades.

Our "yard birds" now include Wood Storks and Anhingas and even a hurricane-driven flock of Greater Flamingos.
In May, 2004, Fran Lusso and Dave Weaver, our neighbors and fellow USFS Volunteers assumed our duties at Sandia Crest. Fran and Dave were new to New Mexico, in about the same position we found ourselves when we moved there from Dallas in 1993. They were already experienced in providing interpretation to the public at the Sandia Crest House Visitors Center. After Dave was injured in 2012, Alan Mickelson took over the duty of tending to the feeders. Alan tries to get up there once a week, and the banding team is there on weekends to fill the feeders. We will continue to keep up ROSYFINCH.COM indefinitely until/unless someone else wishes to take on the task of Webmaster. We started the rosy-finch feeding project in 1999, and welcome this opportunity to remain virtual "observers" and "residents" of our beloved New Mexico.
---
FEEDER LOCATIONS



Two feeders are now in use: Feeder #1 is to the SE of Crest House, and is visible from the lower parking lot and the Gift Shop picture windows; #2 is on the west deck, visible from the dining room. The location of trapping and banding may take place on the deck or at feeder #1, at the discretion of the banding team and Crest House management..

Ken reports:

In this picture, which I took on February 5, 2003, the Gray-crowned Rosy-Finch (Hepburn's race) is partially obscured by a Black Rosy-Finch. CLICK ON PICTURE FOR LARGER IMAGE.

Note that the pink on the undersides of the Gray-crowned species is rather dull as compared to the Black (and Brown- capped) species. See Chris Fagyal's stunning photos of Rosy-Finches at www.avianphotos.org In March, 2003 Ken took a panoramic view from the deck of the Crest House. Click here for a view that will scroll itself in your browser.
---
OTHER SPECIES REPORTED AT OR ON THE WAY TO SANDIA CREST

For updated sighting reports vist the FORUM

NORTHERN PYGMY-OWL has appeared intermittently opposite the base of the Sandia Ski Lift It has been seen most often around sunrise and sunset, but may show up any time of day. It has been reported on the east side of the Crest road just uphill of the sign for the Sandoval- Bernadillo County line, and just off the deck of the Crest House Once it perched right on the support for the hanging feeder on the deck.
During most winters, CASSIN'S FINCH (right, photographed by Ken at deck feeder on February 5, 2003- click on picture for larger image) flocks to the Crest feeders daily, as does HAIRY WOODPECKER, WHITE- BREASTED and RED-BREASTED NUTHATCH.
TOWNSEND'S SOLITAIRE is fairly common below 7500 feet and appears at the Crest, especially later in the winter.
NORTHERN SAW-WHET OWLS may be heard near the Tree Springs Trail Head (see the Mile-by-Mile Guide to Crest Road for directions).
PINE SISKIN and CLARK'S NUTCRACKER are irregularly present, and RED CROSSBILL may be abundant but are even more unpredictable, absent all of the winter of 2002-2003 and not returning until mid-summer, 2003, only to practically disappear in the fall of 2005 and appear intermittently during the winters since then. CLARK'S NUTCRACKER can sometimes be seen at the base of Sandia Peak Ski Area, especially when skiers are present, and appears irregularly at the Crest.
The elusive PINE GROSBEAK has shown up near the deck of the Crest House and near Capulin Spring, as well as at the 10K trail head. Nine Mile Picnic Area and the Ellis and 10K Trail Heads are also good places to look for Pine Grosbeaks.
NORTHERN GOSHAWK nests in the lower reaches but may be seen any time of year at any elevation
Even before spring arrives, look for RED-NAPED SAPSUCKER (one spot for them is the big snag right at mile post 6), and WHITE-THROATED SWIFTS and VIOLET-GREEN SWALLOWS may fly over the Crest.
Occasionally PURPLE FINCHES are reported at the Crest, but so far their presence has not been confirmed. Since this species is so unusual here, great care should be taken to distinguish between them and CASSIN'S FINCHES. Photographs will be useful to confirm any sighting. Some female Cassin's Finches can have strong face patterns, suggesting Purple Finch. On these birds, check the bill (culmen or upper ridge very straight in Cassin's but slightly curved in Purple) undertail coverts (almost always unstreaked in Purple) and the pattern of breast streaks (narrow and sharply defined in Cassin's). Listen for their distinctive calls, and SEE THIS COMPARISON FROM CORNELL LAB. HOUSE FINCHES do not favor the higher elevations and do not visit the Crest House feeders.
---
Writing in Central NM Audubon's newsletter (
BURROWING OWL
)

, Raymond VanBuskirk estimated that the winter of 2004-2005 rosy-finch flock numbered about 150 birds, of which 120 were banded. The number newly banded the next winter (2005-2006) swelled to 298 (plus 255 re-captures), suggesting that the flock now was more than 4 times larger. Banding success was largely due to traps that Raymond constructed. On page 4 of the above article, he describes the newly-designed traps and invites you to observe the banding. He and the team from Rio Grande Bird Research are hoping that recapture data will provide information about the birds' longevity and winter site fidelity. Click here to see the available banding statistics.
---
Rio Grande Bird Research is working in coordination with Blair Wolf, a professor at the University of NM, on hydrogen isotopes. Nancy Cox said "this will hopefully allow us to know where an individual bird comes from latitudinally. We don't have to collect blood for this analysis... Our
Ryan
and Raymond had been looking at the average distance traveled per species and comparing it to the age ratio. It was looking very interesting. The hydrogen isotope information should help analyze this data more accurately." FOR MORE INFORMATION ABOUT STABLE ISOTOPE ANALYSIS, SEE:
Isotopes Link Birds to Breeding and Moulting Areas:
"Since the isotope composition of birds' feathers reflects their diet at the location where feathers are grown, feathers sampled from young-of-the-year as they migrated southward indicated breeding ground location..."
Isotopes From Feathers Reveal Bird Migrations:
"The principle behind the work is simple: birds are what they eat. And what birds eat while growing feathers on the breeding grounds contains isotopes of hydrogen, carbon, and nitrogen. These vary in predictable patterns across North America." Also follow these links to results of studies of
migrating Cooper's Hawks
and
Wood Warblers
.
RADIO TRANSMITTER TRACKING AND COLOR BANDING


During the winter of 2008-2009, Rio Grande Bird Research attached radio transmitters to three birds of each Rosy-Finch species, for a total of nine transmitters. Their research protocol sets out a plan to expand the banding project by using radio telemetry to study where these birds are roosting at night, where they go when they are not at the Crest House feeders, and their general flocking behavior.



"All precautions will be taken to ensure the safety of the birds. Using the snowshoes, GPS, and radios, two teams of three individuals each will maneuver the mountain slopes, while triangulating the birds with the use of the receivers. After we have found the roost sites we will take observations on behavior, temperature of roost site, habitat, etc. Not only will the data from this research add to ornithological knowledge, but it will also help to educate the public about bird and habitat conservation..."



Rio Grande Bird Research may also institute color banding. More information about this activity will be posted as it becomes available. Of interest, a color banding project is underway in western Colorado. An outline of this project may be accessed at this link to a Word document with color pictures of the bands in use.
Learn more about the Sandia Crest Rosy-Finch research and how you can help support it!
---
Following are two contributions, one each from Sandy Williams and Hart Schwarz, both respected New Mexico ornithologists. They address the historical presence of Rosy-Finches at Sandia Crest.
HISTORY OF ROSY-FINCHES AT SANDIA CREST AND IN NEW MEXICO
The three rosy-finch species seen at Sandia Crest are: Black Rosy-Finch (

Leucosticte atrata

), Brown-capped Rosy-Finch (

Leucosticte australis

), and Gray-crowned Rosy- Finch (

Leucosticte tephrocotis

).

Sartor (Sandy) Williams is Editor of New Mexico Ornithological Society Field Notes and Chair of the New Mexico Bird Records Committee. He searched the NMOS archives and provided us with the following information:

Here are a few comments on the history of Rosy-Finches at Sandia Crest and on breeding by Brown-capped Rosy-Finches in New Mexico that may be of some interest or use in your overall summary of the situation:

Sandia Crest:

In looking back over the history of Rosy-Finches in NM, it turns out that Sandia Crest has a fairly long history of hosting these birds. The earliest record I find for the Sandias generally is January 1954, although the earliest record that specifically mentions "Sandia Crest" seems to be a flock of 40 on 26 Nov 1955. Records become more and more numerous through the 1960s, 1970s and 1980s. Fair sized flocks were being reported by the early 1980s (e.g., up to 85 on 8 Jan 1981). Seasonally early are reports of 60 there 8-13 Nov 1987 and 13 there on 8 Nov 1992; these dates may be a little earlier than some of the more recent early arrival dates.

Summering/Breeding in NM:

There seems to be some confusion or misunderstanding regarding breeding by Rosy-Finches in NM. The Brown-capped is the breeding species of the Southern Rockies, nesting from southern Wyoming, through Colorado, to northern New Mexico. The specific name "australis" refers to this "southern" distribution. There are now summering and/or breeding records for most of the higher peaks in the Sangre de Cristo Mts in NM; from north to south these are Stateline, Costilla, Latir, Gold Hill, and Wheeler in the northern Sangres and Jicarita, Truchas, Pecos Baldy, Lake, and Tesuque in the southern Sangres. While some of these reports are among the earliest records we have of Rosy-Finches anywhere in NM (e.g., on Wheeler Peak 20-30 July 1904), most date from the 1970s or later, and a number of them were obtained incidental to work with White-tailed Ptarmigan. Although there are late May records, most of these records fall within the dates 26 June-22 August. To my knowledge, only one nest has been discovered in NM. It was found and photographed by Paul Hendricks below Lake Peak in the cirque above Nambe Lake, where he observed a pair feeding nestlings 21-22 August 1976. Given the nature of the habitat where these finches nest, it is not too surprising that only one nest has been documented.



Return to top of page

---
VISIT TO THE CREST HOUSE ON 3-13-2003
By Hart R. Schwarz
(

Hart is a Neotropical Bird Specialist with the Cibola National Forest)
THE ROSY-FINCH PHENOMENON:
Ken Schneider of Cedar Crest, NM has put the wintering Rosy Finches on the map, but they didn't suddenly appear in 1999 when Ken first saw them. They were conspicuously present in 1974 when I arrived in Albuquerque and had been reported from the Crest as early as the 1950's. And for hundreds, nay thousands of years, they have undoubtedly visited the Sandias from early November through late March, just as they do today—only no one was there to notice them. Half a century ago there were but a handful of birders in the Albuquerque area, and they were sorely challenged and precluded by a dirt road well nigh impassable in the depth of winter. Today we take easy access for granted, but it wasn't always so!
In any case, Ken decided against chasing the finches up and down the Crest trail as we were wont to do in years gone by, and instead scattered seeds in the parking lot to attract them in 1999; subsequently, he was instrumental in getting three feeders put up near the Crest House in 2002, one of which is just outside on the patio, affording good viewing even from inside the building. This proved to be a great arrangement for local birders, who could always be assured that a roving flock would cruise in from time to time. But Ken took his
finchophilia
a step further by creating a comprehensive and very popular web site devoted to the Rosy Finches, an accomplishment which has sparked world-wide interest in these fascinating birds that hail from frigid arctic wastes to spend the winter months in the comparative balm of New Mexico. In other words, Ken, with an assist from the Internet, has catapulted our Rosy Finches into undreamed-of heights of notoriety. Yes, the Rosies have always been here, but never has it been so easy to enjoy them!
MY OWN RECENT ENCOUNTER WITH THE ROSY FINCHES:
As it had been quite some time since I had last visited the Crest House, or the Rosy Finches for that matter, I was astonished not only to see the "new" facility and its greatly expanded interior, but also the beautiful deck or patio where the primary feeder with the hulled sunflower seeds is located. Even with the presence of these feeders, the Rosy Finches spend most of their time cruising the crest and the canyons below, swirling and dipping across their rugged terrain in coordinated flight and always on the lookout for yet another place to feed. But every hour or two, they would fly in, settle on the tops of nearby trees and then, when the coast was clear, descend en masse onto the deck feeder, filling it to capacity like so many bees in a honeycomb. Then, after a few minutes and their hunger abated, they rose up as a body to resume their freewheeling lifestyle beyond the ken of the earthbound.
During the four hours or so of enjoying the deck and the local birds hanging out near the feeder, the Rosy Finches appeared four times in flocks numbering from twenty to eighty individuals. Virtually all the birds were Brown-capped Rosy-Finches and Black Rosy-Finches, with the former outnumbering the latter about two to one. The Gray-crowned Rosy-Finches already seemed to have departed for their summer homes, perhaps because they have to travel farther than their comrades—all the way up to Alaska, the Yukon and British Columbia. Only a couple of Hepburn's had remained behind, as well as two or three indeterminate ones, having a hint of gray flaring out behind the eyes. Since Gray-crowns are said to show the least sexual dimorphism (Bent), and therefore likely to show the least attenuation of their classic field guide images, it is not inconceivable that these faded-looking birds were female Blacks. By the end of March even these stragglers will return to their frosty homes, the formidable bastions of the high Rockies, where, with White-tailed Ptarmigans and American Pipits, they will go another round in the eternal game of survival against the elements. Perhaps the sunflower seeds they enjoyed in the Sandias will give them a little extra edge!
Weather Conditions, Forecast and Fire Closures:
SUBTRACT ABOUT 11 DEGREES FROM CEDAR CREST TEMPERATURE (AT 7000 Ft) FOR SANDIA CREST TEMPERATURE (10,678 Ft).
AVERAGE TEMPERATURES AND PRECIPITATION AT SANDIA CREST, BY MONTH
TIME OF SUNRISE AND SUNSET, BY MONTH
FIRE CLOSURES AND Cibola National Forest Information
WEBCAMS that show current weather conditions:
VIEW SANDIA CREST FROM THE EAST
, and current conditions at Paa-ko Ridge Golf Course (6800 feet elevation), a couple of miles north of the intersection of NM-14 and the road to the Crest. Sandia Crest is in the right background.
Sandia Ranger Station in Tijeras (505-281-3304) Winter Hours: 8:00am-4:30pm Monday through Friday; Closed Saturday and Sundays. The Sandia Crest Visitor Center (505-248-0190) is no longer staffed because of budget restrictions.


NOT AN ADVERTISEMENT- Profits from wholesale sales donated to CNMAS Ryan Beaulieu Scholarship Fund

Rosy-Finch T-shirt:

OUT OF STOCK AT CREST HOUSE!




Generous fit, high quality, heavyweight T-shirts, Gildan Ultra Cotton Ts, 100% cotton; 6.1 oz., with a Screen-printed design. They are pre-shrunk, have a taped neck and shoulders, and double needle stitching throughout the garment. Light Blue or Athletic Gray, in sizes M, L and XL, with either large or small logo.

(Designed by Ken Schneider).

Rosy-Finch Cloth Patch AT CREST HOUSE Round, 3 inch, 7 color, fully embroidered. (Designed Ken Schneider).



Metal Rosy-Finch Lapel Pin

AT CREST HOUSE

Round, 1 inch solid brass, black nickel metal coated and filled with 5 colors, covered by clear epoxy dome. Ideal for the tourist and serious "lister" to wear on vest or hat. (Designed by Ken Schneider)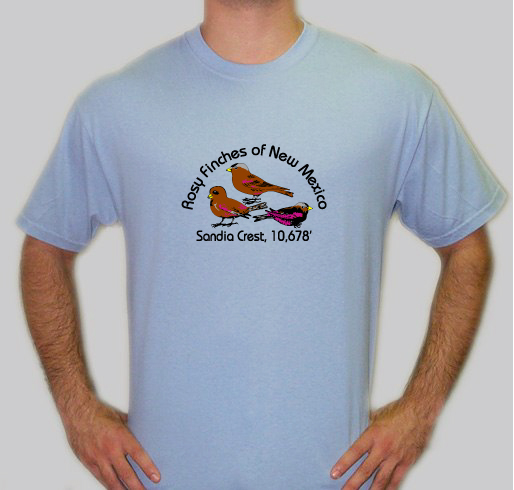 3" Cloth Patch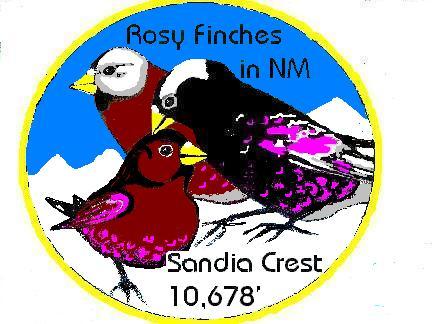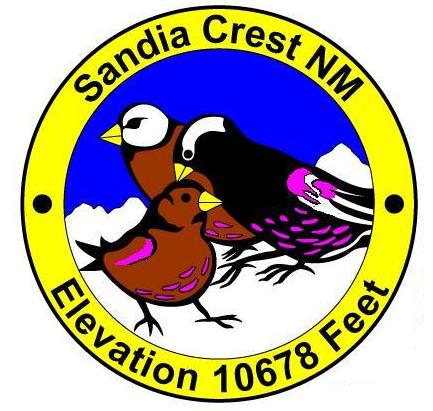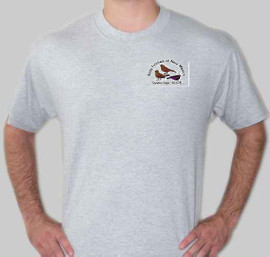 1" Metal Pin